9 Clean Nail Polish Brands You Can Feel Confident Painting With
I always read the nail polish labels. For one thing, I'm partial to creative color names. Right now, I have Moondust on my toes, Amethyst on my left hand, and Swamp Thing on my right. I'm basically staring at my nails when I type this. But more than the color name, I'm even pickier about what's inside the bottle. Lucky for you, all these are from certified nontoxic clean nail polish brands.
Classic, non-gel nail polish is composed of a polymer dissolved in a solvent. After applying it onto your nail, the solvent is able to evaporate leaving just the hardened polymer coat. The process itself isn't damaging to your nails, although it is recommended that you take a break between manicures to let your nail beds breathe (Don't forget to moisturize!). However, studies have shown that chemicals can be absorbed through your nail beds (4), so you might want to check what's in that magical shimmery tube before you dip in.
Table of Contents
The Levels
Because there are so many ingredients in nail polish, changing with the brand, formula, color, and purpose, it's often easier to list what's NOT in the bottle instead. That's why you'll often see the shorthand "# free" on bottles and websites to tell you which harsh chemicals are omitted. 
5-free
This is the most basic level a formula can be to be considered nontoxic. 5 free nail polish does not contain the top 5 most toxic chemicals commonly found in nail polish formulas: dibutyl phthalate (DBP), formaldehyde and formaldehyde resins, toluene, and camphor. 
7-free
Take everything from 5-free out, then take out two more. 7-free nail polish also excludes ethyl tosylamide and triphenyl phosphate (TPHP).
8-free
The extra chemical removed in these formulas is xylene. According to the CDC, xylene is "a colorless, flammable liquid with a sweet odor. Exposure to xylene can irritate the eyes, nose, skin, and throat. Xylene can also cause headaches, dizziness, confusion, loss of muscle coordination, and in high doses, death" (5). Yay… 
10-free
At last, we come to the royalty of clean nail polish formulas, 10-free. Along with everything else, 10-free polish also removes parabens and tert-Butyl hydroperoxide, making it the highest formula classification on the market.
More?
Some brands take out even more chemicals than those in 10-free formulas, so why don't we just keep on counting? Well, there isn't an official list of removed chemicals past the 10-free formula, so even if two clean nail polish brands say their formulas are "15-free", those extra five ingredients aren't necessarily the same. But don't let that deter you. Anything over the number 10 still removes those harmful toxins, and the fewer chemicals the better.
Depending on your preferences and price point, you can check out the brands below and see which level you prefer. As the formulas get cleaner, they do also get more expensive. But for a safe, nontoxic, nonirritating, absolutely gorgeous lacquer… I'd say it's totally worth it.
A note: Beware of glitter. Glitter in nail polish, even so-called "eco-glitter", is harmful to the environment (3). While there are plant-based brands like Bioglitter, non-certified "eco glitter" is a greenwashed product that can actually be coated in plastic. If you really want to keep your nail polish consumerism clean you need to do it sans sparkles.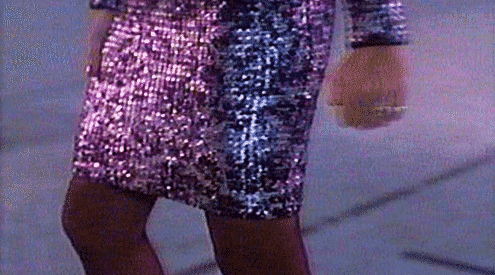 Top Clean Nail Polish Brands
Pacifica is 100% cruelty-free and vegan. Their original 7-free formula comes in 70 shades, all under $10, but their newest Plant Magic Polish line has a 16-free, bio-sourced ingredient formula. 80% of the ingredients are bio-sourced, originating from renewable vegetable biomass, and it's still only $10.
Another 7-free, vegan, and cruelty-free formula, NCLA is a female and Asian-American-owned company in California. Did I mention I'm obsessed with this color? And it's called Life's Better Poolside, what a perfect name.
Acquarella is a 7-free water-based formula, making it virtually odorless for people with fragrance sensitivities. Just note that this makes the formula sheer, so they suggest you apply a few coats for opacity. They also have their own clean nail polish remover that does not contain acetone, camphor, fragrances, and humectants among other things. 
Mineral Fusion is a super long-lasting cruelty-free, CarbonFree®, vegan, 8-free formula that also excludes parabens. Though it's not as odorless as Acquarella, their formulas are also fragrance-free. For easy application, the top of the bottle pops off to reveal a smaller brush handle that's not so oblong.
Olive & June are your BFFs for all things nails. They've got full manicure sets, or shop the full spectrum of nail polish colors. The 7-free, cruelty-free, and vegan formula gives you a gel-like finish without the harmful UV light.
Dear sundays, 
Thank you for your 10-free vegan and cruelty-free nail polish line that has the most beautiful deep purple I've ever seen and a non-acetone nail polish remover with Vitamins A, C, and E to nourish my nails. 
The PURE Color 10-free formula is vegan, cruelty-free, and 84% plant-based, but what really makes this brand stand out is its kid's line. The nail polishes are water-based and easy to wash out after the inevitable spill or smudge. This is a French brand, so while the bottle price is reasonable, shipping might bump up the total.
This 8-free vegan and cruelty-free nail polish line aims to give you a ten out of ten mani-pedi experience. Headquartered in New York, Tenoverten offers a great range of neutrals, pastels, and color pops.
Named after the founder's twin daughters, this cruelty-free and vegan clean nail polish is 7 to 17-free. Shop the full range of colors or sample the namesakes' favorite shades. They also sell Mommy&Me color duos which totally aren't exclusive to just mommies. 
Written by Christiana Sinacola
UP NEXT: 
SOURCES:
 Via Unsplash If you are an animal-conscious, environmentally friendly person, that means you might want your consumi ...
Photo by Jocelyn Morales on Unsplash Skincare and self care have grown so much in popularity over the past two year ...
Via Instagram We're spending more time than ever staring at screens, and absorbing whatever content the algorithm ch ...